Les Quinconces Cultural Center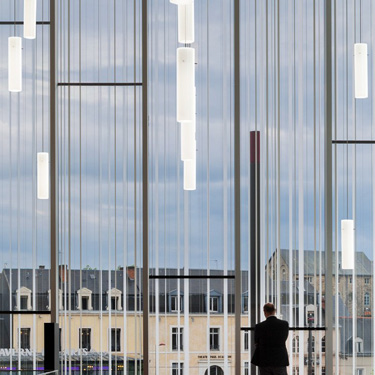 A cultural center softly lit by glass pendants
In the heart of the French city of Le Mans, it is not unusual to see prominent historical structures next to contemporary glass facades. Designed by Parisian architects Babin + Renaud, the new Les Quinconces Cultural Center was constructed alongside a fourteenth century cathedral, Les Mans Cathedral of Saint Julien, creating an interesting juxtaposition.
The Cultural Center features two forms of art: film and theater. The distinction between the two art forms is brilliantly illustrated in the architecture, with the creation of two separate wings which are connected via an elongated, interlaced roof. Semi-transparent glass walls provide a view of the expansive theater lobby, where the cylindrical pendant luminaires enhance the overall interior design, while remaining subtle and elegant.
Hung at various heights, the pendant luminaires soften the strong, structured lines of the building and bring warmth to the space. The premium-quality glass cylinders of the luminaires are created using a specialized production process. A wafer-thin layer of opal glass is enclosed between two crystal glass layers, creating an optimized, even distribution of light.
Client
City of Le Mans
General Contractor
Heulin, Le Mans
Architecture
Lighting Design
Electrical Engineer
Garzynski Traploir, Le Mans
Photography