AUGUST 7, 2020
BEGA North America receives an Awwwards honorable mention for design, creativity, and innovation on the internet.
In a digital world, a company's website is the most important element of its identity system. Over the last year, BEGA's marketing team took on the challenge of re-thinking and redesigning the BEGA North America website. Countless hours were spent discussing needed functionality, an enhanced user interface, and how best to prepare for the future. Months of effort went into creating digital assets, finalizing code and building out content for launch day.
Praised from both inside and outside the lighting industry, our new website even received an honorable mention from the web design community and our friends at awwwards.com. The awwwards.com site is "A meeting point, where digital design professionals from across the globe find inspiration, impart knowledge and experience, connect, and share constructive, respectful critiques. "Always questioning", "always evolving".
We are honored to be among these cutting edge and creative websites, and could not have done it without the hard work and determination of our Brand Management team. We also want to deliver a special thank you for the countless hours of help and guidance from our web development partner, SPINX Digital. We now look to the future, always seeking continuous improvement and in support of a world class customer experience. Stay tuned for more upgrades and enhancements in the very near future.
A fresh new homepage
Start your product exploration, see what luminaires are featured this month, and keep up with the latest news all from our new homepage.
Easily narrow down your search
We have developed a powerful filter tool to help guide your search to meet your lighting needs. Quickly filter products by distribution, lumens, installation type, or features.
Quickly find your local representative
Type in your zip code to locate a BEGA representative in your specific location throughout the United States of America, Canada, Mexico, Central America, and the Caribbean Sea.
Browse through our collections
View our luminaires grouped within their collection and see the unifying design themes between our overall range. Create a harmonious aesthetic that carries through your entire project with BEGA collections.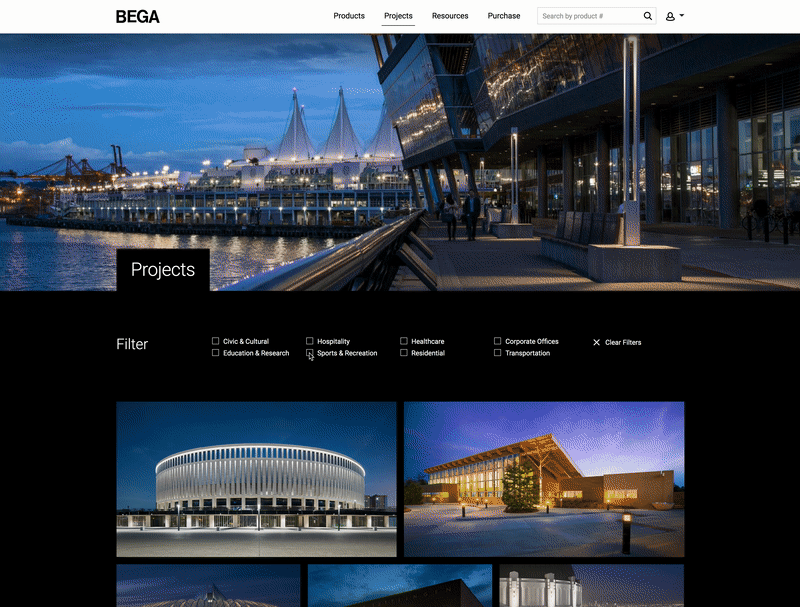 Find inspiration in our gallery of projects
Learn how BEGA luminaires brilliantly reveal the architecture of projects all over the world. Filter projects by subject, read the stories behind the designs, and reference the products that make these buildings stand out.